I did another city escape with another bunch of friends on 7th-8th June to Sekeping Serendah. Direct translated as, 'One Piece One Short'. Cool name, huh? Or probably not. But it's certainly a very very fantabulous place to spend a weekend with a big group of friends. Check it out here.
If you are driving there (in which I suppose that's the only way to reach there), it's recommended to drive a fairly higher car as there will be a small stretch of slightly rough road just before reaching the place and the humps were f*cking high that it's probably meant for trucks! We tried to hold our breathe each time when we were going over the humps. That didn't make us any lighter obviously, as we could hear the quirky sound below us. 5 of us were in Mazda 3 and I'm pretty sure you can see all the scratches at the bottom of the car if you could turn the car upside down. *ouch*
The place was not very huge. There were 2 Glass Sheds, 1 Timber Shed and 2 Mud Sheds. As we have 16 of us, we rented 2 Glass Sheds and 1 Timber Shed. Every sheds is air-conditioned except the Glass Sheds.
The Glass Shed (2 Storeys)...
The Timber Shed...
One thing worth mentioning, is the open space shower.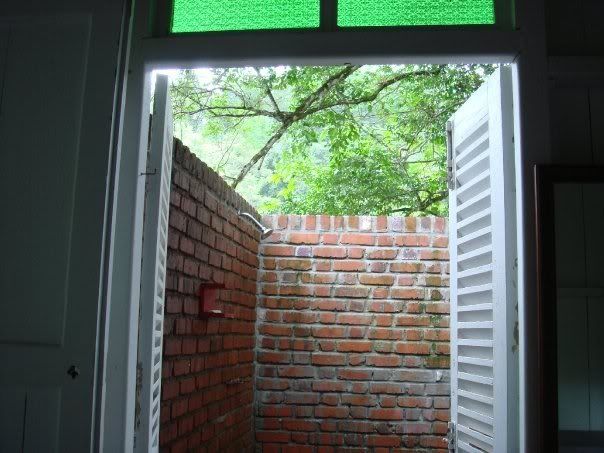 Imagine you are actually naked taking your shower, looking up the sky and saw the canopy leaf. Adrenaline rush like hell. Let's hope there's no monkey falling from the branches though. If you can't imagine, then go check out the place yourself.
My Maxis was totally out of service in such rural place. If you wanna keep in touch with the world while you are in here, get CELCOM cause that was the only service we could get.
At about 5pm, we started to light up our bbq fire. The best part about this place was, we did not have to light it up ourselves. The worker there will help with the ignition and you can happily barbeque your food when it's ready.
The fire was just next to the swimming pool and a dining hall.
The swimming pool was not very huge, but it was smashing.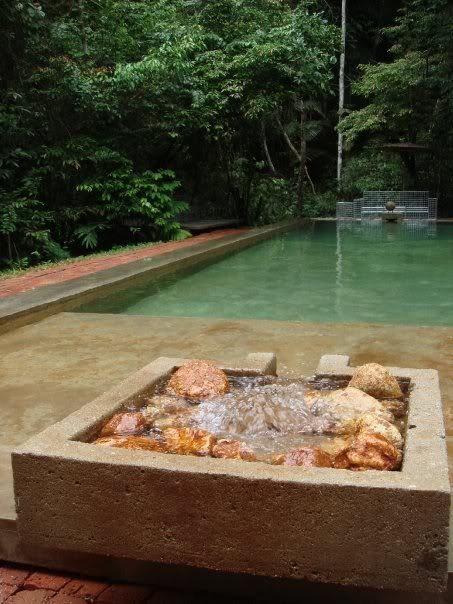 At first, I was wondering why do they have such uncomfortable frame chair next to the pool...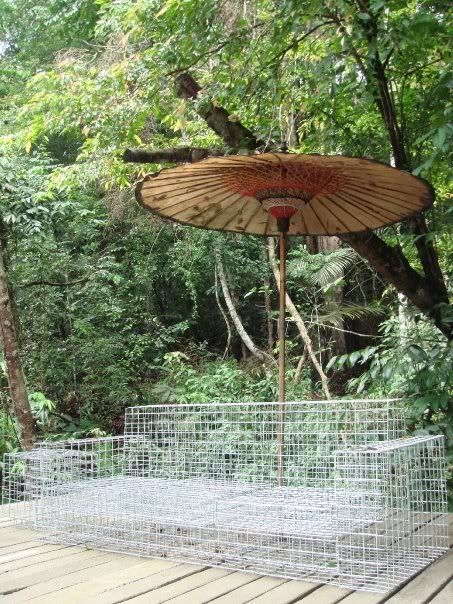 There was a reason to have such frame chair here. Since there were only 2 levels in this swimming pool, 1 with 4 feet deep and another with 1 foot deep. We can actually put the frame chair onto the 1 foot deep water and you can sit on it. How cool!
That's not just it. As part of us were not swimming, these people were kind enough to bring the food and drinks to us in the pool. So I was basically swimming, while having the bbq food accompanied by beer, sake and liquor at the pool.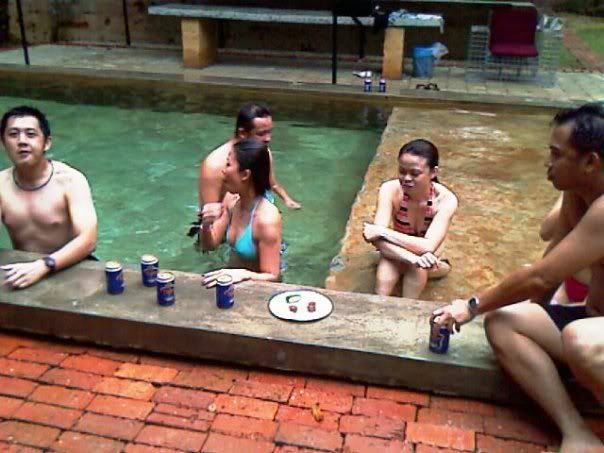 Still missing something? YES! The music. And we were well prepared.
Ipod with JBL blasting speaker. (Did i hear a WOW!?)
OMG, it's heaven-like ~~
In that one night, we finished up 1 bottle of 2 litres Sake, 3 bottles of Single Malt Whisky and a bottle of Vodka. I remember there were 2 cartons of beer too, and it's all gone.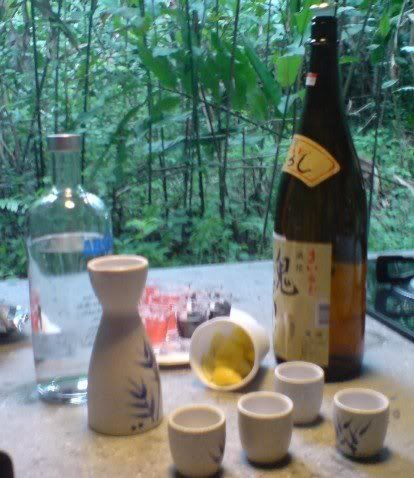 It was a great night as we played some games and had a great chat.
The only problem I had throughout this trip was my sleep. I was transferred to stay in Timber Shed from my Glass Shed cause someone got drunk and lost control that night. But what's worse, was my sleep was disturbed by a loud Indian-like music that was played very loud the whole night. I guess I fell asleep around 5am that night.
The next morning, we had light breakfast and continued the swimming and drinking session.
Not sure if they were drunk, as they were trying to play cards in the pool.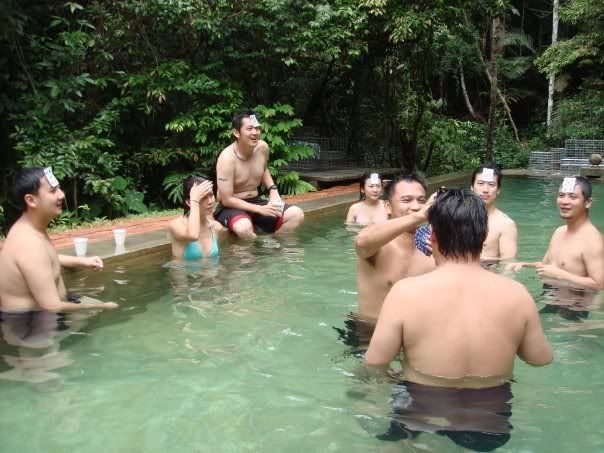 In that few hours, they finished another bottle of Single Malt Whisky and a bottle of Black Label. No kidding, these people are real hard core drinkers.
I tried not to touch the water that day as I was a bit lazy to dry up the clothes. Still, I was being thrown into the pool by the machos.
This is one of the best relaxing place that I've ever been to. 100% recommended to come and I don't mind coming again, if anyone of you is planning to go, okay?
posted by Survon @ 10:35 AM,