Date : 17th May, 2008.
Places : Kepong - Kuala Lipis - Gua Musang - Kota Bahru - Wakaf Bahru.
At 6am, we gathered at Jason-the-10.60's house in UNIFORM and started our journey when everyone has arrived.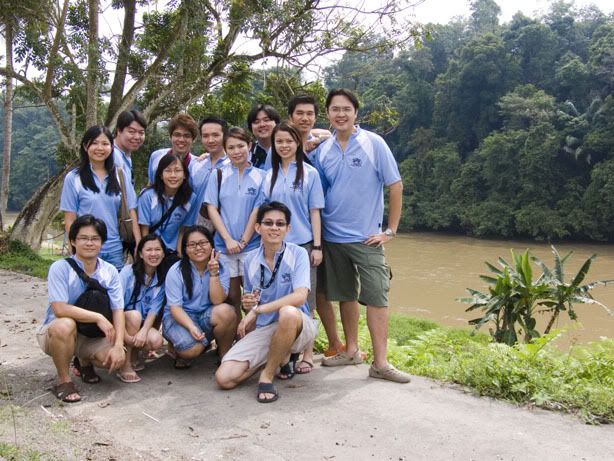 No kidding. We kiasu-ly made a piece of jersey for everyone who participated in this trip.
Our first stop was to Kuala Lipis, Pahang, where we went to a small lane to check out one of the restaurant which was introduced in the TV show, Ho Chiak.
The Chong Ko Hakka Noodles is famous for their Hakka Noodles. While we were trying that, we ordered some other dishes from other shops too, which were recommended by the shop owner.
Imagine what were the locals thinking when we had 14 people in a team wearing the same top with many carrying their DSLR or semi-auto cameras walking along the small lane. We were constantly asked where are we from and what's the purpose to be there. Gosh, I'm not so used to such attention from the people around.
After the lane exploring food hunt, we walked to the nearby Tong Kok coffee shop hotel to try out their simple breakfast, ie. half-boiled egg and bread with homemade kaya. What attracted us to this coffee shop was their bread in which it was toasted with the traditional way of using charcoal.
We then continued our journey to Gua Musang which took us about 2 hours to reach and went to the Restaurant GM Food Garden for lunch.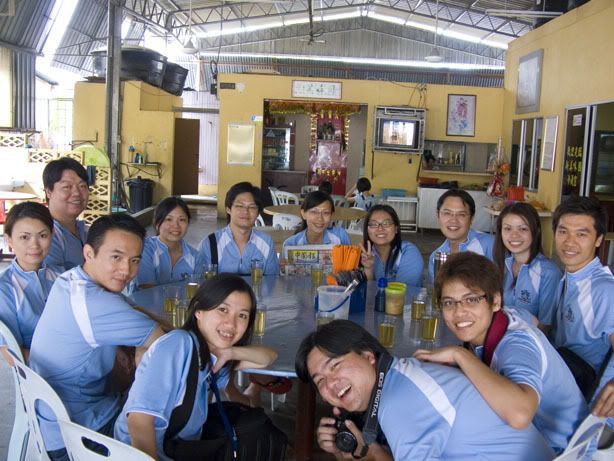 After lunch, we left Gua Musang for our final destination of the day, Kota Bahru, and met up with my buddy, Huei-the-Panda, who will be offering his house for us to crash on for the night.
Before reaching KB, the photographers demanded us to stop by along the roadside to capture the scenic limestone hill. I was not as excited as others since I've been seeing all these hills every time I go back to Ipoh.
After meeting up with Huei-the-Panda at KB Mall, we went to Wat Pracacinaram, a Siamese Temple in Wakaf Bahru, where the guys checked out their famous thermal bath. I did not try it as I don't really fancy sauna. They seems to like it though, especially when it was with herbs which was good for health.
| | |
| --- | --- |
| | Huei-the-Panda coincidently was wearing the same color shirt as our 'uniform'. |
Before we checked-in to Huei's bungalow, we filled our stomach with the Thai-Chinese fusion dinner in Orchard Garden, where we ordered Eel and Fried Bees (Yes, FRIED BEES!). The bees tasted crunchy and nice, but having feel the shape of the bees in the mouth, it was a bit hard to swallow. *yikes*
Later that night, we went to the popular place, Sun, a karaoke pub, where Huei would drop by at least once a week. I could finally experience the social life of Kelantanese that night and had a few drinks. Yes, you can find alcoholic drink in a PAS region, you can wear sleeveless clothes and you don't have to stay distance away from your opposite sex friends. Kelantan is not that scary as everyone thought, okay?
After a few booze, Huei brought us to try out their local Chee Cheong Fun (aka lakso) and laksa (aka laksam) before calling it a day.
[To be continued...]
Related Posts:
posted by Survon @ 10:40 PM,