Date : 18th May, 2008.
Places : Kota Bahru - Merang.
Early morning we woke up to start our KB visit.
The view from Huei-the-Panda's house
Our first stop of the day was to the local famous coffee shop, Kedai Kopi White House. Other than the usual toast bread and egg, they serve yummillicious nasi dagang too. The nasi dagang was so good that we had to share a packet among few of us as it was already sold out when we wanted to order more.
It's always a joke when people told me PAS party allowed the Thai Buddhist to build the country's biggest Buddha statue in their territory. No kidding. The sleeping Buddha in Wat Pothivihan was HUGE!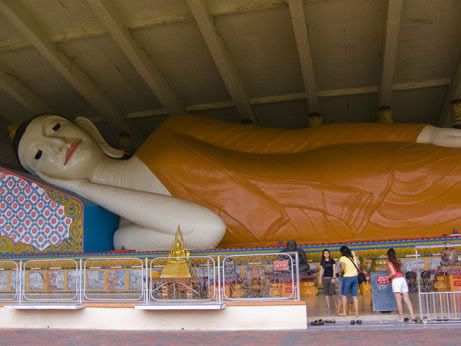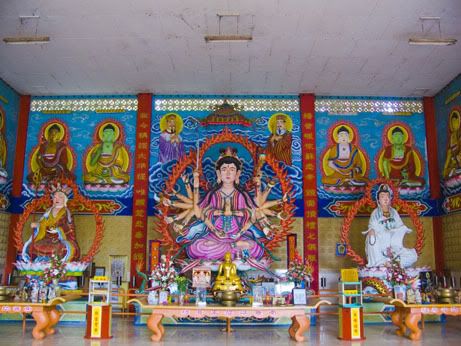 Huei-the-Panda then brought us to the another huge Buddha statue in Wat Machimmaram. It was the biggest sitting Buddha in South East Asia.
After the few temple visits, we went back to Huei-the-Panda house to pack our stuff before heading to U-Lang Corner for lunch.
U-Lang Corner is famous for its nasi kerabu. The rice is green in colour cooked with over 40 different type of vegetables. It taste superb. Absolutely recommended to try this. The boss of the restaurant told us that his son has open another branch in Bandar Puteri, Puchong. People in KL won't have to drive all the way to KB to try this unique food from the east coast.
Before saying goodbye to Huei-the-Panda, we went to a chendol store where they serve chendol with pulut (glutinous rice) and tapai (fermented cassava). Pulut is quite common here in KL, but with tapai, it seriously taste weird. With the taste of alcoholic, I couldn't really accept it, but some of us like it very much.
| | | |
| --- | --- | --- |
| | | The orange color thingy is what we call Tapai. |
Our whole trip in KB has been wonderful and fun, thanks to our local tour guide, my buddy, Huei-the-Panda. He 'ponteng' his meeting with the Properties Association for few hours just to bring us around.
THANK YOU VERY MUCHIE!
| | |
| --- | --- |
| | Huei-the-Panda turned into Dato' for wearing the uniform of the Properties Association. |
We departed with Huei-the-Panda and he rushed to his Properties' meeting while we continued our journey to Merang, Terengganu and check-in to Kembara Resort.
The resort was pretty bad. It's cheap, but torturing. The toilet was so small, you can't even have 3 people standing inside. Don't ever try to spend your night here.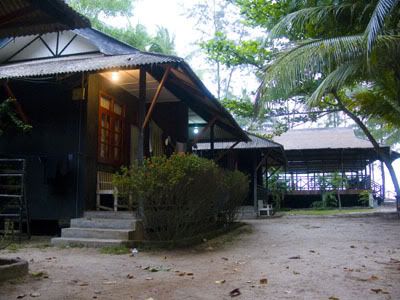 Nothing much we could do in Merang, other than playing volleyball and cam-whoring.
...and got thrown into the water...
We had great fun playing at the beach that day.
Finding dinner in this area was extremely difficult too. Especially when it was already 9pm when everyone has taken their shower. We had a crappy dinner and went to bed.
[To be continued...]
Related Posts:
posted by Survon @ 12:56 PM,