"Honey, for this one month, please forget the TV and your beloved husband during the evening till the night, ok?", a husband told his wife.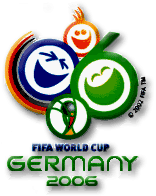 I know, World Cup has started for the past few days and the hottest topic now is none other than football. Talk about ball, think about ball, eat about ball, sleep about ball, dream about ball...
Being a bit losing out, I watched my first World Cup match yesterday. Germany vs Poland, and German scored the very first goal on the very last minute. So cool! After the whole match (though i was only watching the 10 minutes ending) I was expecting the next match and asked when it'll start.
That's the most silly question ever. How can any official football match will start in the middle of the night, after 10pm?
I'm not insane, I just got used to the Malaysian World Cup time where everyone has to stay awake till 3-4 o'clock in the morning (not to mention the Japan-Korea hosting period). To me, World Cup is the time where everyone do not need to sleep in the night and then, the next morning, everyone is going to the office with panda eyes (half-dead). Fortunately or not, here in Hungary, under the same timezone as Germany, World Cup is played in normal hours, I don't really feel the excitement, as people still work and sleep as normal.
World Cup in Europe is so boring. Not much living-corpses in the office like Malaysia.
Anyway, corpsy-corpsy sekalian, today in the email, I received something very useful to you...
Get a sick leave!
By the way, since World Cup betting is legal and open in Hungary, I'm planning to put my World Cup virgin bet soon. Do inform me if you have any tips.
posted by Survon @ 10:37 PM,