My last lunch with this bunch of people. (as I had planned to have my real last lunch in the company with other people). It's Thursday and my last day in the company will be Friday.
Nice restaurant, nice environment, and the funniest thing was the restaurant was closed when we arrived, but the boss started the business because of us.
Everyone was telling me to remember this day as the last day of our lunch. And Simona-the-Roommate was wondering if i have any log or diary to note down my everyday life in Hungary. I told her about having a blog here. But didn't expose the URL yet. I promised to tell her after I left, and yes, hey, I do write about you here, S.I.M.O.N.A. You are famous, among my friends now. Happy?
In the night, there was one person's birthday party.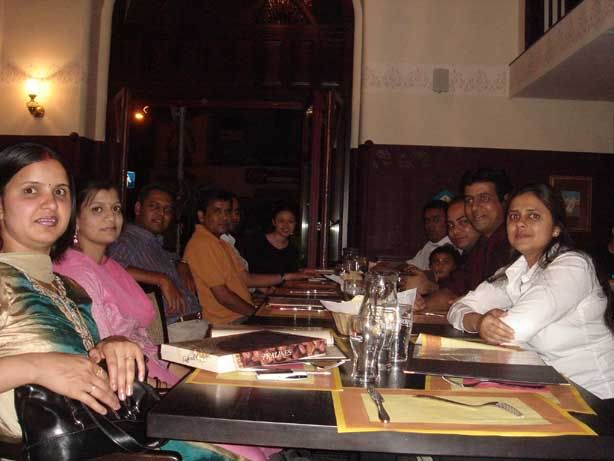 Guess who? My manager, Manindra-the-Manager.
If you look closer to the photo, yes, I am the ONLY chinese/alien in the group. Don't know since when I got so blended with Indians. I didn't have any close Indian friend when I first came here. Though I am in an Indian company, I was only mixing with other Europeans around.
Alright. I can't actually express myself now. It's already 2am and I just came back from my farewell party. Will write about it tomorrow. Now I gotta go and have a rest...BYE
posted by Survon @ 8:39 AM,