To start up with my post, please allow me to write about my own background.
My mum was born and grew up in Johor, located at Malaysia's south most. Those days, going to Singapore was like us, having a cup of coffee at Genting Highlands. Whenever they have time and couldn't find any other better things to do, loitering around Singapore would be the best option to kill time.
I suppose most Malaysians have been to Singapore as least once in their lifetime. Let alone me, being a daughter of a Johorian, how could I never been there? Sure enough, I was there ONCE, when I was in my mum's womb, and that was the only one time.
Now that I am a fully grown adult, I have decided, for once, to make my Johorian mum proud, by stepping on my own feet in the Uniquely Singapore!
This trip was actually planned for quite sometime. Coincidently, it was also in conjunction of the Great Sales Singapore (GSS), which, actually ruined our whole plan to 'visit' Singapore, but turned out to be more like going on a shopping spree in Singapore.
We drived down to Johor on Friday night and spent a night there before continuing our journey to Singapore the next morning.
| | |
| --- | --- |
| | A typical post for taking a picture with the Merlion which I kiasu-ly followed |
We arrived at Singapore after noon and went to the Vivo city to start the first round of shopping while waiting for Veriza-the-Bubbles to join us. No picture cause we were too busy enjoying the sales.
Then we went to Sentosa because that seems to be the must-visit place in Singapore. Usual people would spend one whole day to enjoy the whole of Sentosa, but we spent 2 hours inside to take pictures.
Siloso Beach was our only stop in.
| | |
| --- | --- |
| | Obviously, I'm not in the mood of Beach-ing |
Then we had our 2nd round of shopping at the Orchard Road. Sales everywhere. Arghhh..couldn't resist!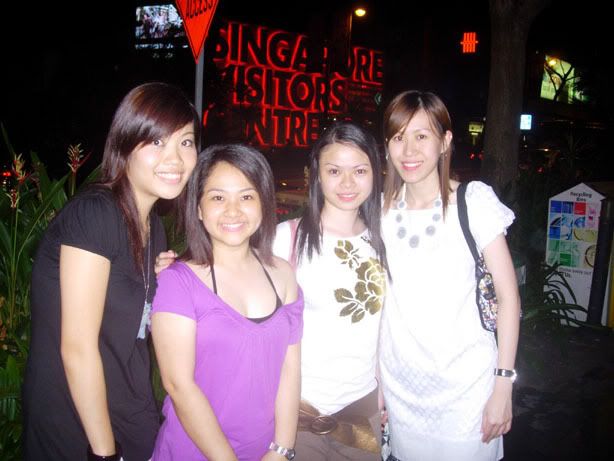 When all the Shopping Malls were closed, it was the time for clubbing. We went club hopping around MOS and I-cannot-remember-the-name club. Couldn't get myself drunk, though.
The next day, to complete our trip of Singapore, we cancelled our initial plan of going to the east beach of Singapore to ride bycycle, but to go for the final round of shopping at Marina Square.
A weekend in Singapore was surely not enough, especially during the GSS.
I surely need to plan for another trip soon. Maybe the next year's GSS?
posted by Survon @ 9:55 PM,