Another cuti-cuti Malaysia?

Right, and this time we dived ourselves inside one of the most popular tourist cave, Gua Tempurung (literally: Coconut Shell Cave), which is located inside Perak, around 25km south of Ipoh.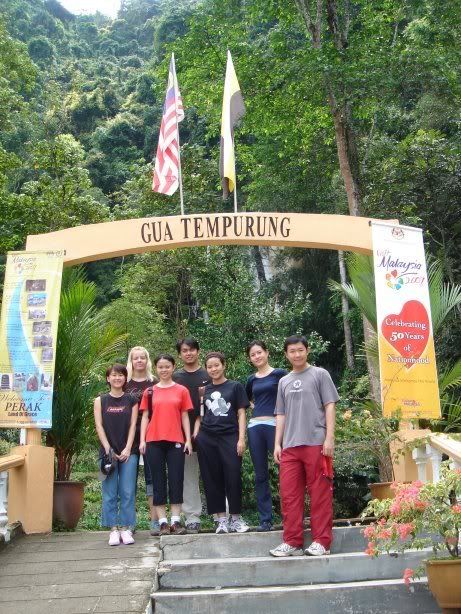 There are basically a few different tours categorized in 4 grades. The 1st and 2nd grades are dry and boring tours which you would only need to walk and walk and walk in the darkness through the cave. The 3rd and the 4th grades are more challenging and you'll have to slide, jump, walk and crawl through the river and get yourselve totally wet at the end of the tour. Sounds great, huh?

At first we were planning to take the Grade 4 tour (aka Grand Tour) which is the most strenuous and exciting tour. Alas, with our 1.5 hours of driving from KL, we reached the cave at 11:30am and the last Grand Tour has left without us. At 12:00pm, we followed the one grade lower tour, the Grade 3 tour. Well, at least it was still a 'wet' tour.
Before you plan to participate in such a tour, you have to prepare yourself to get dirty and drenched. Going for the Grand Tour might even get your clothes, pants and shoes ragged. So, try finding old attire that you won't mind throwing away after the tour.
As I couldn't find any old clothes that I can throw (hey, I'm starting to re-stock my clothes collection since I am back. Don't expect me to have old clothes after 6 months, right?), instead, I bought NEW clothes to throw.
Shoes (from Carrefour) = RM 15.00 (After discount from RM 19.90)
Pants (from Carrefour) = RM 8.90
T-Shirt = Complimentary from Mich-the-babyBelle
Total Cost = RM 23.90
Wow !! Cheap Cheap Cheap !! Never in my life have I bought clothes from Carrefour, if it's not because of this Gua Tempurung trip.
What to expect in the cave?
Prepare to crawl...
Prepare to slide...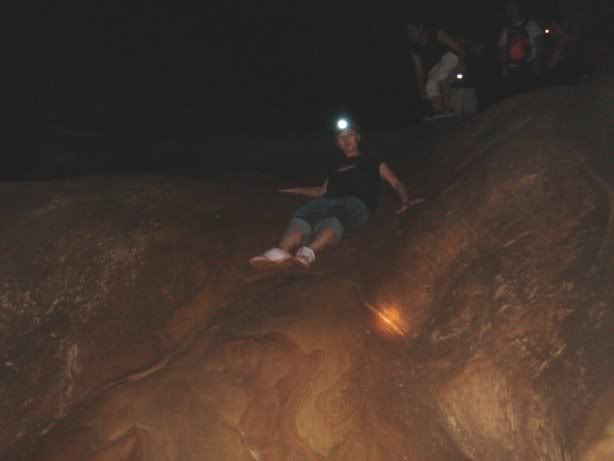 Prepare to jump through a hole...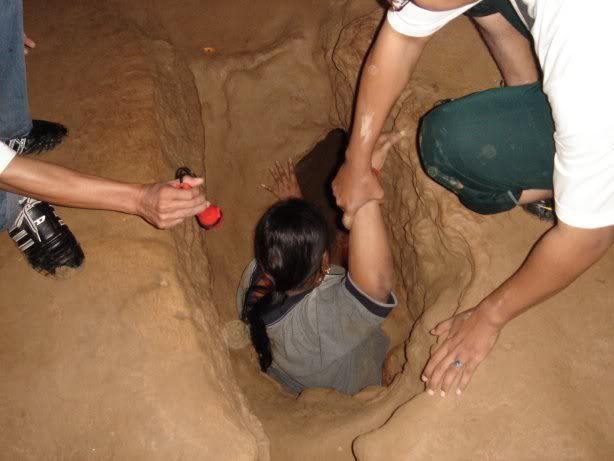 This is only for the Grand Tour, though
Some people from 'SMART' wanna show how smart they are by doing this.
They surely have different definitions being smart.
Then there was another stone full of Chinese writings...
The only words I could comprehend from the text was the date, being 1959, June 16th. What does it mean? You tell me.
While we were still DRY
We were so excited when we had our first step in the water...
...but the real excitement has yet to arrive. When we first felt our shoes flooded with water, we went *yhew* *yikes* *yeeeee*. Till certain spots where we had to dip our whole body into the river, we got immune with the water and was happily sitting in the water to take picture at the end of the trip...
Our gang with the tour guide
The water will not be too deep, don't worry. The highest the water level could reach till your waist (MY waist, to be precise). Still, your whole body will be drenched because the ceiling can become way too low and if the water level rise a bit higher, you will have only ONE HEAD space of air between both of them.
After the 'tough' journey, we survived the whole adventure and pampared ourselves with Ipoh White Coffee and Yeong Tau Fu from 'Dai Shu Geok' (trans: Big Tree Trunk). Thanks to Mich-the-babyBelle who drove back to Ipoh and bought these food back for us to picnic outside the cave.
After regaining our energy, we went to the nearest waterfall, Lata Kinjang, to wash ourselves clean from the mud and dirt from the cave...
If you have never been there, you've missed one of the wonders in Malaysia...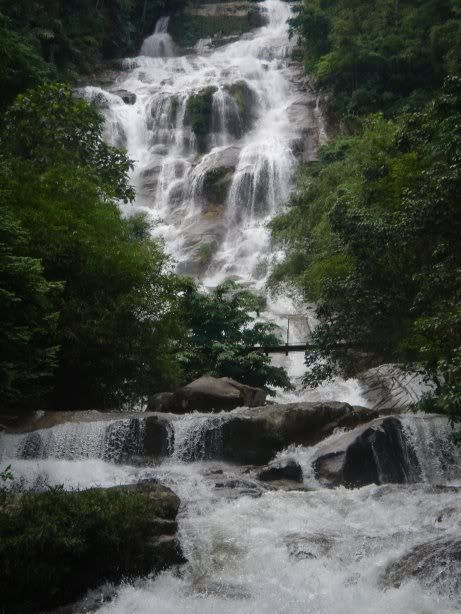 To wrap up our whole adventure, we stopped by at Bidor for a bowl of Duck Noodles before continuing the journey back to KL.
| | |
| --- | --- |
| | |
| Duck Noodles Soup | Dry Duck Noodles |
We went home tired, but happily...
P/S : All my attires were still in one piece, surprisingly.
posted by Survon @ 3:00 PM,