Was not having too much motivation to blog these days. My mind is fully obsessed with my own future plan. Nothing much seems to happen these days. The usual activities like eating, drinking and sleeping with occasional partying gave no sense to blog them here.
There's ONE thing, though. One memorable thing that I did during Labour Day in conjunction with the Wesak Day. I am not sure if I should blog it, as I have been doing too much of 'these' things these days.
Yes, I participated in the Wesak Walk organized by one of the temple in Brickfields during Wesak Day.
Some people started looking at me one kind when I told them the stories. I know I didn't sound normal going to Thean Hou Temple for the sake of 'visiting'. I know it sounded even crazier going to Batu Caves and get myself sandwiched by all other Indians during Thaipusam.
But this time, I did NOT plan for it. I was invited by my relatives to join the crowd.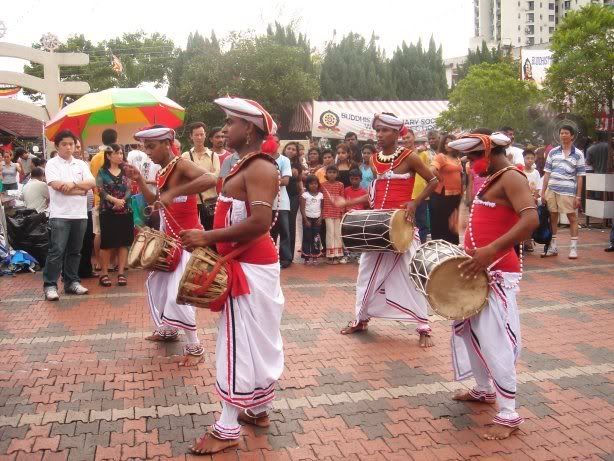 Please do not ask silly questions like, what do we do for Wesak Walk, cause we didn't do much things other than WALKING for 4 freaking hours. Imagine walking a big round from Brickfields to Brickfields through SOGO, Dataran Merdeka, KTM station, KL Sentral and other places I couldn't recall because all my energy was focusing on my legs. After an hour of walking non-stop, my legs were no longer controlled by my mind but were more like being programmed to keep walking behind the decorated cars with an infinity loop.
The worst is, I was wearing a 2 inches high heel shoes (luckily it was only 2 inches). Probably till now, I sounded like having IQ below 70 wearing a pair of high heel. But heck, I never knew I had to follow the troop walking for a few hours. Gosh, the next time, I know what to do...
"Cheh, Walking only mah, Nothing to scare of"
Dialog stolen from TVB's "Journey To The West"
posted by Survon @ 1:44 PM,