PRE-BIRTHDAY :
On my eve, I've booked a studio room in Sunway Resort Suites to party all night.
Unfortunately there was a change of plan at the very last minute to have dinner at Sushi Zanmai in Sunway Pyramid instead of ordering pizza into the room.
As many could only make it for the 2nd round after dinner, only 6 people joined the dinner.
The party continued to Bar Celona where I had almost everything I wanted for my birthday...
I had my multi-flavour birthday cake (thanks to the innovative idea of my event manager, Michelle-the-BabyBelle)...
I had my birthday Flaming Lamborghini shot...
I had my birthday hugs...
I had my birthday kisses...
I had my friends...
..and of course, most importantly, my birthday PRESENTS!!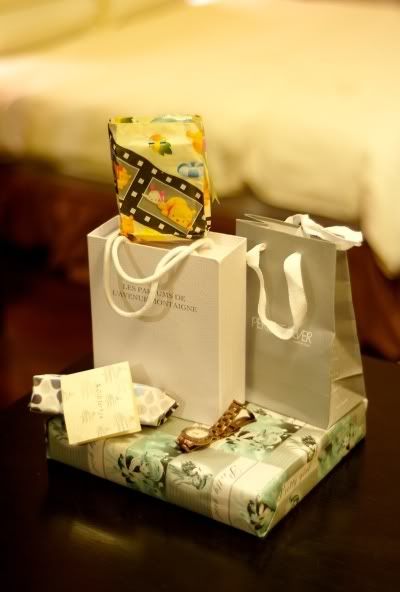 Few of us stayed overnight in the hotel and went to work as usual the next morning. Gosh, it was such a torture to wake up from the comfortable bed in a hotel.
***************************************
BIRTHDAY :
Worked whole day, but hardly focusing with the hangover I had. But I struggled through to survive for the dinner.
The night was not only a celebration of my birthday but to enjoy the company's dinner for the first time. It might sound sad to celebrate birthday with the company but I don't mind really. The company is paying, you know.
At first we couldn't decide where to go for dinner as it shouldn't be too cheap. Flying Chillies seems to be the best choice...
Since it was the first time (and god knows when will be the next) to have all my 3 Hongkie directors in KL, we suggested to extend our party to another Karaoke session as a chance to get to know each other more and because the company is paying.
We booked a room in the classy RedboxPlus in Pavillion.
My 3 funny directors...
I didn't look at the bill, but I'm pretty sure we've spent more than RM1k for the night. Well, who cares? The company is paying.
***************************************
Post-Birthday :
The next day, I went back to Ipoh and had my final birthday celebration of the year with my Ipoh friends.
We had dinner at 1919...
Regretted for not taking pictures with the whole group during the dinner itself.
After dinner, I had another Karaoke session with them in K-Box.
Here I am, another year older, another year wiser.
posted by Survon @ 9:57 PM,