We checked out from Eagle Bay in the morning and went for island hoping.
The first stop was to the Dayang Bunting Marble where we were greeted by the monkeys and had a short swimming session in the lake.
The tour guide then brought us to a place where it was full of eagles flying in the air. We tried to feed them with meet by tossing into the water.
Before getting back to the Langkawi Island, we checked on another little island to enjoy the beach and cam-whoring.
After the island hoping, we checked in to Meritus Pelangi Resort where Mich and I stayed in a King sized bedroom while the other 2 stayed in Twin bedroom.
Being in Langkawi, how can we not visit the Hanging Bridge? Going up the Hanging Bridge, we'll need to take the cable cars which consists of 2 levels.
Scenic view from the middle level...
From the top level, we had to climb a few more hundred steps to reach to the bridge. Gosh, it was exhausting...but everything was worth it when we could enjoy the breeze and the view.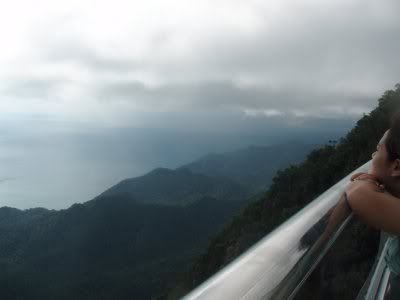 The Titanic feel...
The jumping pose...
For your information, smoking is prohibited...
Coming down from the mountain, we headed to the Pasir Tengkorak Beach where the locals claimed it has the best sand in Langkawi.
| | |
| --- | --- |
| | The initials of the 4 girls |
[To be continued...]
Related Posts:
The Islands Up There - Part 3 (Langkawi)
posted by Survon @ 9:50 PM,