On 29th June, we woke up around 6am to have breakfast and catch the early ferry to Langkawi. After partying one night before, waking up early was absolutely torturing.
Around 3 hours later, we could notice a huge Eagle statue standing firmly on the other land. Yes, we have reached the jetty of Langkawi!
From the jetty, we rented a Proton Gen2 for RM160 for 3 days. Extremely good deal, I would say.
The 4 race queens wanna-be
As it was still early to check-in to our hotel, we drove to the famous Makam Mahsuri to experience the history of the Island before exploring to other popular tourist spots around with the help of my GPS.
The 2 girls made a wish at the Telaga Mahsuri (Mahsuri Well).
This museum was mostly showing the story of Mahsuri and the life during that period.
We checked-in to Eagle Bay Hotel (absolutely not recommending this hotel if you have plan to come) and went to the refreshing Durian Perangin Waterfall.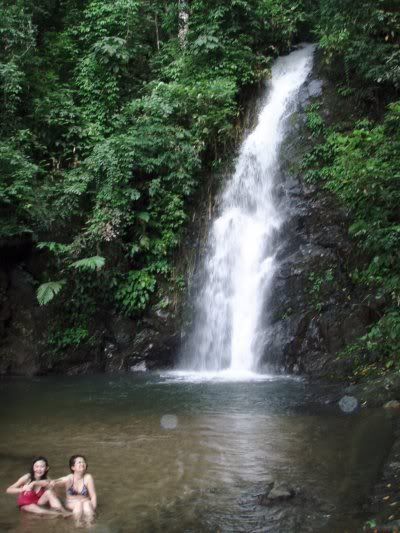 Along the same road, there was this Air Hangat Village where they have natural hot spring for us to dip our feet. Part of the place was under renovation. Probably they are renovating the hot spring swimming pool?
Not sure if it's because of hygienic concerns, we are not allowed to dip our feet straight into the little pool, but to scoop the water out into a pail.
While we were up north, we visited the luxurious Four Seasons Hotel and witnessed a private beach-side wedding which was very simple (because there were no guests invited but only the couple with the priest and ONE witness). Unfortunately, we took all the pictures with Michelle's camera and it all went disappeared mysteriously the next day.
Night time, we went to visit Alan-the-KancilCivic which was coincidentally having their company's trip in Langkawi too. We brought our bottle of Finlandia Vodka and drank at the Westin Hotel's pool side, where Alan was staying.
The ambiance at the poolside was so nice that I fall asleep on the wooden lounge.
[To be continued...]
Related Posts:
The Islands Up There - Part 2 (Langkawi)
posted by Survon @ 2:07 PM,