Date : 17th July, 2008
Night of 17th July, after work, we took the night flight and reached Kota Bahru around 10pm. So happy to see Huei-the-Panda picking us up at the airport. As usual, this nice host will never fail to stuff our stomach with their yummilicious local food. Before sending us home for a rest, he brought us to a mamak to have some Satay where we met Anson-the-Roadster and Sany-the-DiveBoss.
The next morning, after some dilly dally, we started our 3 hours journey to reach Belum Rainforest Resort and the group in the same tour had to wait almost an hour for us.
Our tour guide could hardly express herself in English and our personal tour guide, Huei-the-Panda, had to be the translator most of the time to all other foreigners in the group.
This 1-day-trip organized by the resort cost us RM150 per person which was pretty costly for a 6 hours trip in which almost half of the time was spent on the boat travelling from one end to another.
Our first destination was to visit the elephant dung...and salt lick, where the elephants came to lick the mineral from the ground and it turned into a big hole.
After visiting all the poo poo, we went took another loooonnngg boat ride, and hike hike hike...
...just to visit another pool of dung and (wet) salt lick!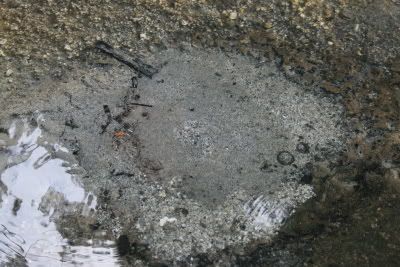 The next few trips were to visit the Orang Asli settlement...
Had lunch at the bottom of the waterfall before hiked up...
To the refreshing waterfall...
And to visit a flower bigger than my head...
It was super tired after the whole day trip, for sitting in the boat for too long. Frankly, RM150 for this 6 hours trip, was not really worth it. But since none of our friends have been here before, we had to be the Guinea pig to try it out.
We took another 3 hours to go back to Kota Bahru and stop by to cam-whore at the Titiwangsa stop (I was here before)...
We had a light dinner before reaching KB where Huei-the-Panda claimed it was the best nasi lemak around.
We met up with other guys in KB and went to Restoran Bangkok to have another round of dinner with Tomyam. Well, can't miss Tomyam while you are in KB, since there are so many Thais around here.
[To be continued...]
Related Posts:
KB trip Day 1 - Belum Rainforest Resort
posted by Survon @ 9:09 PM,