Early morning, we had to rush to LCCT to catch our flight. It's not something new as we ALWAYS have to rush when it's an early flight. It was a bit scary watching Loo-the-Treasurer's boyfriend (can't remember his name) driving his Honda Civic at 170 km/hr while the 2 pigs, Michelle-the-Belle and Rita-the-Driver, were sleeping 'peacefully' at the back.
It was quite an eventful night for both the pigs as they did not sleep the whole night for partying too much at Nicole's birthday party. What makes the night even more unforgettable was when Mich left her luggage in her own car, which was left in her office. In the end, she had to leave KL with no luggage. Sounds adventurous? Indeed.

Okay, this is the story...Mich parked her car in her office with her luggage, went to party in Nicole's car, left the key in Nicole's car, party party party, dance dance dance, drink drink drink, got tipsy, sway sway sway, yo yo yo, and everyone left home while Mich followed Rita WITHOUT the key. By the time Mich realized her key was missing, they rushed to Nicole's house but obviously Nicole was already having another party in her wonderland and no one could wake her up to open the door.
Anyway, our trip shouldn't be affected by such mishap. We carried on with our plan and reached the airport just on time. *phew*
We reached Penang before 9am and Jen-the-PenangGuide came to fetch us to her home. Smelly Mich took her shower and we headed to our first breakfast in Penang.
We then visited the Wat Chaiyamangalaran...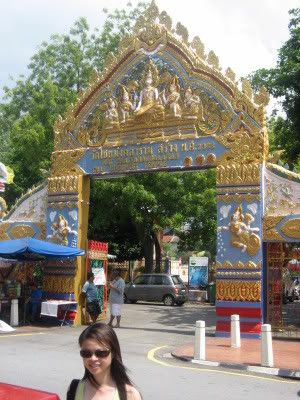 Inside the temple, they have the same HUGE reclining Buddha like what I saw in Kota Bahru. Slightly smaller than the one in KB of course.
Mich was so fascinated with the Buddha's nail that she wanted to take a picture with the 'Pedicured' nails.
| | |
| --- | --- |
| | Buddha's nail after Pedicure session |
There was another temple just opposite Wat Chaiyamangalaran, the Burmese Temple...
Since we don't really feel like being the tourist in Penang, we skipped all the tourist spots but food. We went to have Char Kuey Teow and went to walk around in Gurney Plaza. Before going home for a rest, we had the popular laksa too.
Glad that Jess-the-FacebookPoker could find time to meet up with us this time.
By now, Nicole has arrived to Penang with her friend in a car bringing Mich's luggage.
As usual, we went to have seafood dinner, and then had the exciting party life joining GimMay-the-Whitey colleagues.
We went home around 3am and we had to wake up early morning tomorrow to catch our ferry at 7:45am to go to Langkawi Island.

[To be continued...]
Related Posts:
The Islands Up There - Part 1 (Penang)
posted by Survon @ 9:13 PM,