While some states were having holidays for Thaipusam on Feb 1st, KL was celebrating its Federal Territory Day. Luckily it falls on the same day, else, I won't be able to get my day off from my work and did another crazy un-malaysian thing that I am about to describe here.
What is so crazy about the thing I did? It's not, if I'm a Hindu. Fortunately or not, I'm having yellow skin believing in something, that might be related to Hindu, but yet to be categorized in the same religion.
According to Wikipedia, one of the largest Thaipusam celebrations take place in Batu Caves, with over one million devotees flooding the inside out of the cave.
All my life, never had I been sandwiched by so many Indians before. The feeling was like a foreigner in a your own country, and a few passer-by would stop by and asked where are we from. I couldn't blame them cause we were indeed with a few other genuine foreigners.
Before I continue describing the journey to Batu Caves, let me describe a bit of our gang. We had 3 Malaysians, 2 Brazilians, a Colombian, a Belgium and an Aussi. Guess who was the one being a tour guide bringing us around? -- the Brazilian. What?!! Hey, you expect a Chinese Malaysian to know how to get to Batu Caves with public transportation from KL Central?? That was my first time taking a Malaysian public bus in the past 3 years, okay? I bet you Malaysians out there are worse. So, don't laugh!
So how was Batu Caves?
It might be adventurous, and it might also be scary. You'll get to know by the end of this blog.
What to expect when you are in Batu Caves during Thaipusam?
Enjoying a cigar during spiritual possession...
After going through all the exciting scenes, we could reach till the other end of the cave...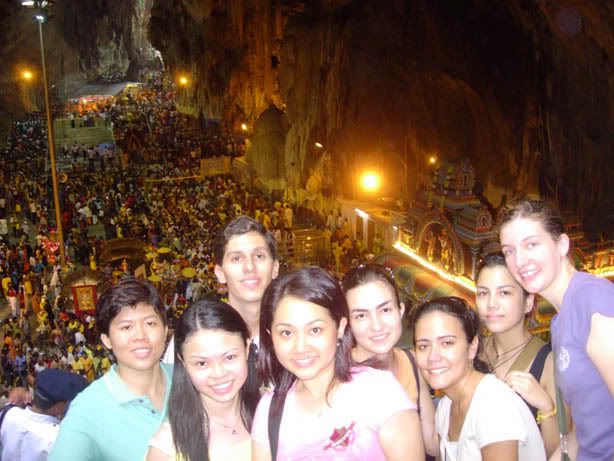 Gosh, it's not easy to get to that point. Boy I almost could not feel my own leg when I'm home.
I know lots of people might think it's crazy to do such a thing. But trust me, this is something you should do once in your lifetime. I don't think I'll ever go again for the next Thaipusam. But well, at least I've "been there, done that".

posted by Survon @ 1:40 PM,