30th May was my 1st anniversary working in the company, which at the same time marks my last day with the company. Not that I've planned for it, but blame on my itchy hand.
On the same day, my colleagues threw me a farewell party. Or should I say they set an objective to get me down?
Thanks to WaiPei-the-CherasGirl who allowed us to mess up her house while her hubby was not around.
The girls were preparing for the finger food
The guys were cooking the finger food
And then it was the climax. Too bad, some people went back before everyone gone crazy.
Their mission started...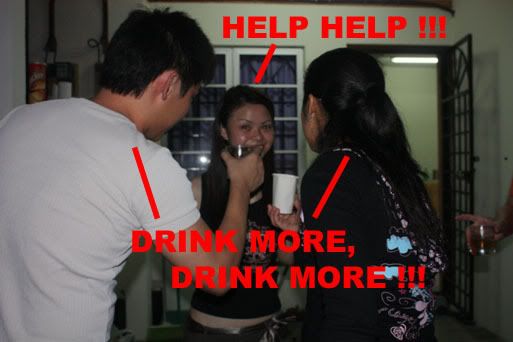 Luckily I was not the only 1 gotten drunk. 4 others accompanied me to throw up.
Everything was fun and crazy until the mishap, where Edwin-the-TauFuFah was so drunk that he fell off from his chair and banged on the ground. TauFuFah being a TauFuFah, he had a deep cut on his chin and started to bleed, which got all us really panic.

It was almost 5am and we had to send him to the hospital (SJMC) to get 5 stitches. *ouch ouch ouch*.
The farewell night meant a lot to me. The mishap has caused it to be even more unforgettable.
My colleagues are now officially my ex-colleagues...
I know I will surely miss them soon...
posted by Survon @ 10:15 PM,