Every month, my company will organize a visit to the Taman Megah Down Syndrome Orphanage Home which we would consistently make some donations to them.
It has been more than 10 months I've been with the company but I have never manage to join this meaningful event as there would always be some other things coming up on the same day.
At last, yesterday, I managed to join the gang for the first time (after rejecting the invitation of my ex-colleagues to go for karaoke session) and experienced something that I have not done since school time.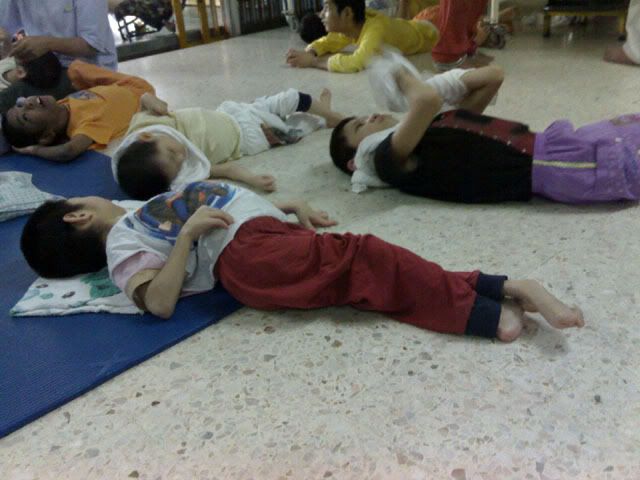 I used to visit another down syndrome home in Perak almost every weekend, when I was a girl guide. Comparing to the one in Perak, these people here are way luckier. They have better workers, nicer environment, and lots of volunteers to help out.
These kids probably do not know why they are there and what they have done that they deserve such a life. They couldn't communicate well with anyone, but that doesn't mean that they know nothing about the world.
At first I was a bit shy to take their pictures as I do not know what's in their mind. Each time when I was trying to take a picture, I tried to act as if I was playing with my phone. I'm not sure if it's my lousy acting skill or it was just too obvious. There was this girl, happily making a peace sign when she realized I took my phone out pretending to send sms to take a picture of her.
Shame on me...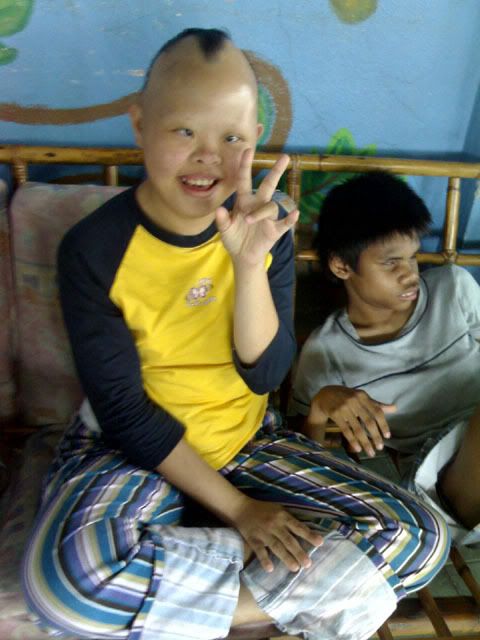 I showed her the picture after it was taken and she smiled happily.
I then started taking pictures openly.
The residents here comprises few different type. Some having limbs problem and some having mentality issues. Do not look down on these people cause they are quite strong physically. One of them challenged us for arm wrestling.
Not everyone in the home is suffering from down syndrome. There are some normal orphans too.
This is Dhurga, which is just a normal kid like anyone of us. She proudly showed me a picture of a little mermaid which she colored with color pencils hoping that I would praise her (which I did). She speaks English. We chatted a bit and she started sitting on my lap while watching Tom and Jerry.
I won't say I've done a lot by just visiting these home but I guess that's a kind of awareness that we need to have while enjoying our luxurious (comparing to theirs) wild spending life out here.
Visiting them is just the least we can do.
posted by Survon @ 2:42 PM,