While many people were in Port Dickson for the Freedom Festival just like Sabrina-the-Blended, I went to Port Dickson too. Not for the festival, but was conned to join my company's team building activity, in which the creative organizer named it as the 'Wah Lao Eh race'.
How was I conned?
See, every month, my company will sponsor RM20 to every staff to organize a departmental lunch/dinner just to help to build a stronger bond among the associates in the same department. Since early this year, we had not had the time to gather around. So the money rolled up to a larger figure that we can pamper ourselves with a fully sponsored short trip to PD. It was told that it would be a makan trip, but ended up doing exhausting activities.

We were divided into 5 teams and each of us is required to create a flag on a little towel given. My team comprises 4 girls and so we named ourselves, the Bombergirl.
| | |
| --- | --- |
| | Our flag. Isn't it creative? The bomb is actually wearing ROXY bikini. Don't play play ar. |
Friday, 9th May, we worked for half a day and started our race after lunch!
All set and ready to GO !
Task 1
We were given a few pictures which was pre-taken along the way to the destination (Port Dickson). We were asked to take the pictures with the same background WITH our flag.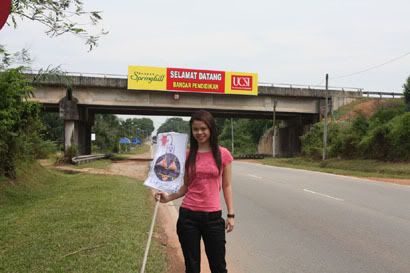 Task 2
Reached Pantai Cahaya to find 2 marshals. We were randomly given a picture with funny pose and try to imitate it.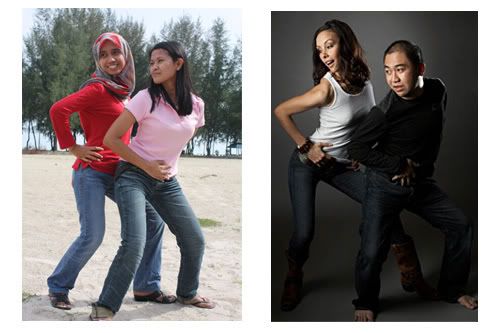 There were few other tasks that probably it'll be too long if I describe each and every one of them here. One of the tasks which worth mentioning though, we were told to climb up a hill to the lighthouse and we had to start collecting the garbage around and compete which team could fill up the rubbish plastic bag the most. In a way, we were helping the mother nature to clean up the world.

After all the exercise and sweat, we went to a Malay stall for food. It sucks big time. Dishes were cold and f*cking EXPENSIVE! *yikes*. Almost RM30 per head.
By the time we reached the Eagle Ranch, it was already night time. Played another few games, slept, woke up, breakfast, another game, and it's time to say goodbye.
Just to show you all how Eagle Ranch looks like...
Our dormitory...
All around Eagle Ranch...
Just a remark, we were so near the beach for 2 days, but we never touch the water! Darn.
posted by Survon @ 6:11 PM,