This is the story...
Everyone in the company knew it was my birthday, and one by one came over to my seat to wish me all through the day.
Then came my Assistant Manager, Mike-the-YeryLong, who came after lunch showing me his palm (wanting to shake my hand). The smart me of course knew what he wanted and took his hand, while waiting for his wish....which never came. The only thing came out from his mouth was questions on my age and those "I'm growing old" kind of teases, and walked away. Heck, where's the conventional "Happy Birthday" wish??
While I was still in the midst of learning to accept the modern way of birthday wish, I msn-ed him, something like below...
| | | |
| --- | --- | --- |
| Survon | : | Where's my present??? |
| Mike | : | Coming laaaa... |
Coming???
What does that mean???
Anyway, I didn't really bother to ask further and went to the washroom few minutes later.
When I came back, I saw this...
From the writing, it was obvious to me who wrote it.
Then i unwrapped the package and found this...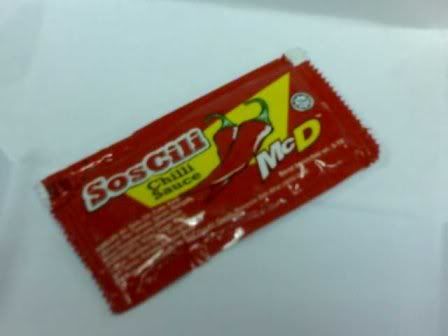 A packet of CHILLI SAUCE compliments of McDonald's ???!!!!
Where to find such a nice manager?? You tell me...
posted by Survon @ 3:03 PM,