Since after school and when everyone could afford a car, how many would actually thought of taking a bus and a cable car up Genting Highland?
The day after my FRIM adventure, few of us decided to take the public transportation to Genting Highland to re-experience the journey of the cable car.
We had basically two objectives in this trip...
To visit Mich-the-BabyBelle's parents and church members who were having their church camp in Gohtong Jaya Hotel.
To enjoy OSIM chair massage in the cinema.
Obviously the latter was the main objective, where we watched Wall-E and massage our body throughout the whole show.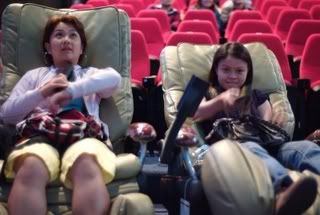 Every cinema has limited 8 OSIM seats in the first row of the hall and it cost RM15 per person. Wanna try?
posted by Survon @ 5:52 PM,