Lots of people couldn't believe me when I told them that I've never been to Thailand. Especially when I met this Thai guy in Budapest and I still remember his very first respond...."Wow, you are the first Malaysian I've ever heard that have never been to Thailand".
To save the pride as a Malaysian, I've finally took the chance to visit Bangkok for the first time in my life while the Hungarians were around.

I reached Bangkok on the 1st Aug and left on the 5th. 4 days 4 nights should be enough to cover the whole of Bangkok, I thought. In fact it was more than enough as I had limited cash for shopping. I've spent all of them on the 2nd day itself.
With some recommendations from my friends, we stayed in Saladaeng area, The Inn Saladaeng. The hotel is relatively new and clean. Cool place for an affordable yet comfortable stay.
As this was my first time visiting Bangkok, lots of friends couldn't wait to offer their help to suggest places to visit around the city. I'm not sure if it's just because of Malaysians or Bangkok is made that way....Out of 5 places suggested, 2 were shopping places, 1 spa/massage parlor and 1 tourist place, which is the Grand Palace. Some even advised me to omit going to the Grand Palace, but of course being a tourist I am, will have to at least visit the place once in a lifetime.
My first day in Bangkok, I went to Jatujak where I met up with Bryan-the-PoolMaster who was coincidently having some work in Bangkok and Pattaya.
We walked the whole day around the market till dinner time, where the portable food stall selling cooked insects started their business.
On the 2nd day, I went for another round of shopping spree in Platinum and went for lunch with Bryan at Siam Paragon, where we spent the rest of the day around that area.
The final 2 days, I was being the real tourists where I stopped shopping and started visiting the tourist places.
The Grand Palace...
I was given a sarong to wear because my shorts was not decent enough, which matches exactly the color of my backpack that I just bought from JTJ 2 days ago.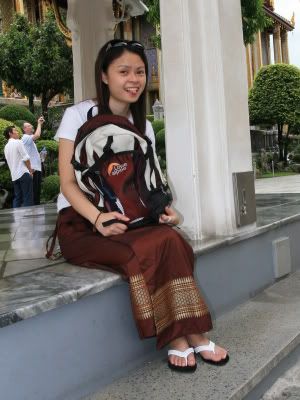 Nice hor?
The Temple of Dawn...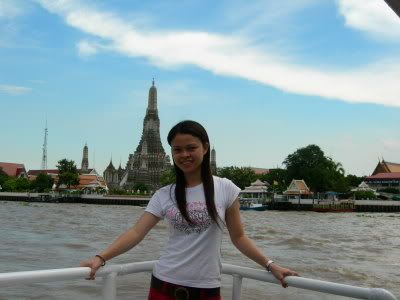 On The last day, I went to Vivanmek Mansion...
For the remaining hours, we went to some other Wats where I couldn't distinguish which is which, cause everything looks the same after visiting the first Wat.
While I was in Bangkok, I tried their foot massage, body massage, pedicure and medicure...
In one of the taxi rides, we were being fetched by Mr. Pornchai...
Man...that sounds real something to us Chinese, no?
Fortunately, none of the places we visited was closed to mourn for the death of the King's sister, but her picture was everywhere around the city.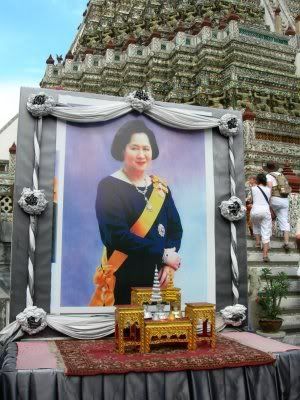 Bangkok....a heaven of shopping. How can any girls resists?
posted by Survon @ 11:11 PM,