Date : 19th July, 2008
I tried to woke up early in the morning rushing to Wat Machimmaram to consult the famous fortune teller there. The teller is so famous that there'll be a huge bus full of tourists visiting the place, almost everyday at 9am.
Unfortunately we were late and the bus was already there by the time we got there. Guess I'll need to make another trip to KB in the future for this. Well, not that I'm superstitious, but I am curious on what the fortune teller gonna say about my life.
We then went to have breakfast at the Craft Museum & Handicraft Centre.
We tried another type of local food, Nasi Ulam. Nasi Ulam is like the local salad, where they eat all the vegetables raw, dipped into a fish sauce called budu. The taste of the sauce was strange and the vegetables was too raw to be put inside my mouth. Most of the time, I took only the cooked meat like fried fish and chicken.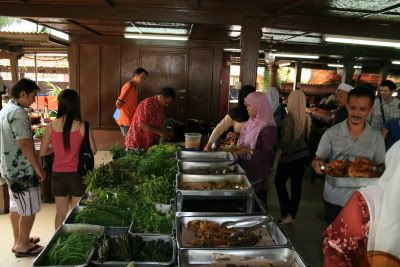 Since most of us were beginners in this food, the staff taught us the way to take the food from the table and how to consume it. As the vege was raw, it's easier to eat with Malay style, as in 'with hand'.
After breakfast, we drove an hour to Pulau Perhentian and took a boat to Pulau Besar where we visited Sany-the-DiveBoss' dive center, Universal Diver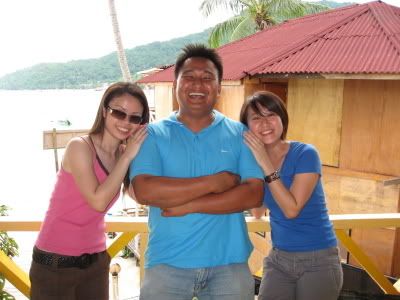 We had our light lunch at the island before taking another boat to the Pulau Kecil and we started soaking ourselves into the water.
[To be continued...]
Related Posts:
KB trip Day 3 - Kota Bahru to Perhentian
posted by Survon @ 3:45 PM,