One day after driving range, during the normal yamcha session, the girls were thinking of doing something more exciting like hiking the Melawati Hill. We were excitedly discussing about the plan to go on that Saturday and the preparation, and bla bla bla....Eventually we discovered that that might be too adventurous for us and shifted our focus to FRIM instead.
FRIM is famous for mountain biking and wedding photos perfect venue. That's the place where we would love to go, to do some exciting activities and taking pictures.
Without any research, we went straight to the place on 16th August, only to realize that there weren't any other activities to do other than mountain biking and jogging. We were totally not in the proper attire for that.
Still, we hiked for about 30 minutes and took some pictures, pretending like those people taking wedding pictures.
Unfortunately though, I couldn't find a couple and had to grab Mich-the-BabyBelle being my lover.
FRIM was so big that we couldn't find the real nice spot like my friends who took their wedding pictures there...
We didn't sweat a lot as expected, but it was a nice outing with the gang...
We then went to Rawang for the famous fish dish, I forgot the name, for lunch...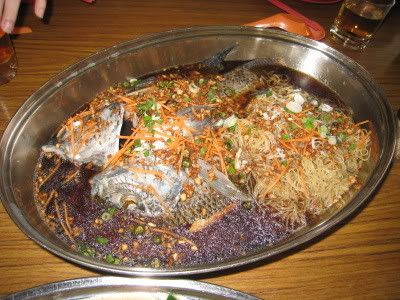 posted by Survon @ 11:18 AM,