1 week ago, some immoral burglars broke into my ex-colleagues' house in Ara Damansara. One of this ex-colleagues, Madam M (say, from Company T), is married and stay in the house with her hubby. Another ex-colleague, Miss E, is staying in another room in the same house.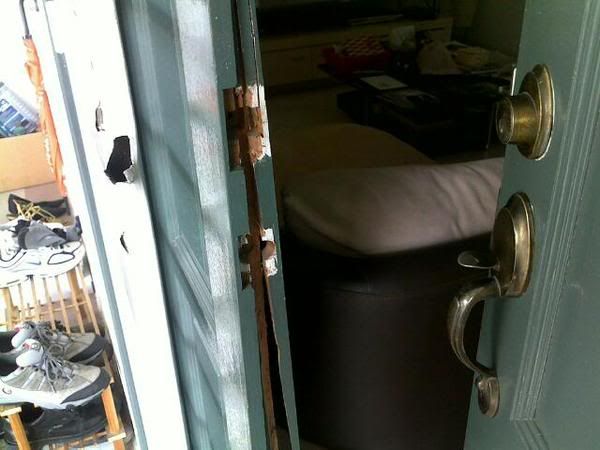 That night, the news about the break in spread like wildfire and in no time, everyone knew about it, thanks to the advanced tehnology tool, named Twitter.
Surely it was the hot topic of the day after the incident and eventually, people started to think about ways to ease the victims' pain, which cost about RM20k and RM10K each. Looking at the loss, we need some constructive acts other than sending them consolations.
Early morning after the incident, I received an email from the 'organizers' looking for sponsors contributing to a fund, we called The Encouragement Fund.
In 1 week time, we gathered 32 people, among the current employees and alumni of Company T, and collected, RM2100.
The organizers managed to secretly pay (on behalf of Madam M) for the new door that they've ordered, which cost RM1300 and the remaining was used to buy a new LCD monitor that was stolen from Miss E.
We bought cards for each of them which they described as 'heavy'. Indeed Madam M's card was heavier as we have attached the payment receipt of the door in the envelope which startled her.
Madam M was feeling bad to receive the 'comfort' that we have contributed which we couldn't do much about it. Guess she needs to learn to get over it.

I was touched thinking about the whole post-incident motions. It proves that we are not just a group of IT geeks who merely knows about IT and goes around Malaysia organizing makan trip, but when times are bad, we do know how to care for each other.
posted by Survon @ 6:28 PM,