Another old post, please bear with me.

I went to Hong Kong for the first time in 2009. On 13th till 15th Nov 2010, I went to the same place for the second time, but this time, we skipped all the tourist spots, and focused on just 2 things, EAT and SHOP!
I'm trying not to make this post as my travel log. So it will only be a summary of what we have done.
First, let me introduce my traveling partners...
Yes, it was an all girls trip. ~Pretty Girls~ *ahem*.
The above photo was taken at the Royal Plaza Hotel lift and below would be the interior of the hotel...
Not bad, huh? The room was pretty spacious and comfortable, and we didn't pay much for 4 person.
Going for good food during peak hours in Hong Kong would mean joining in the long looonnnggg queue...
The food we had...
Other than food, we visited Wong Tai Sin Temple, which was the only tourist spot we went.
It doesn't matter if someone is religious or not, shaking these bamboo sticks seems to be a must-do task when one is there.
The place has turned into such commercialized place that even exchanging a piece of paper bearing the same number with the stick would need us forking out HK$2. We then look for a soothsayer to help us interpret the fortune on the paper. Of course the service didn't come for free either. There were many of them sitting right outside of the temple.
On the first night in Hong Kong, Lewis-the-Lulunee, invited us to join his friends to a BBQ session at Shek O beach.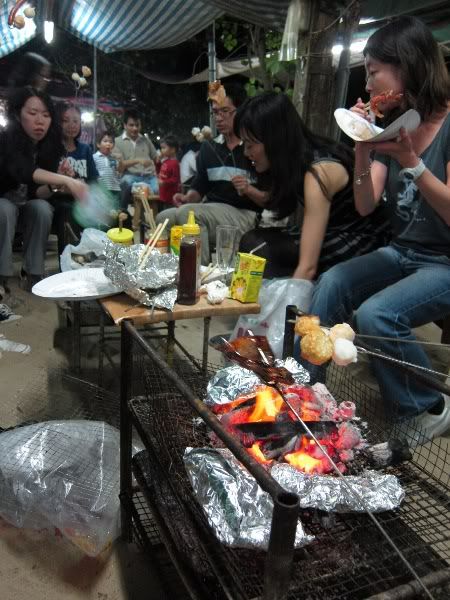 On 2nd night, we went to Tsim Sha Tsui for a drink...
The most satisfied outcome from this Hong Kong trip was of course the shopping experience for the past 3 days...
Thanks to our 'official' tour guide...Lewis-the-Lulunee...
We had such a great time in Hong Kong, I don't mind coming again for the third time.

posted by Survon @ 11:27 AM,