My last Sunday in Hungary was sure an exciting one. Trekking was never my favourite, but since it was my last chance to try it in Hungary, why not? It would be another excursion towards Miskolc (the same place I went for skiing).
Just when everyone has prepared to start the expedition. Blue skies turned grey and everyone was drenched. It's drizzling, for God sake!
This reminded me of something happened one year back in Malaysia.....
~~~~~~~~~~~~~~~~~
After a loooonnnngggg plan, 3 girls decided to go for a jog. It was certainly not easy to have such motivation to do such a thing for an evening. And there we go, happily riding on Mich-the-Belle's Toyota Unser heading towards Kledang Hill, Ipoh.
After reaching the destination, we took some pre-jogging pictures to prove to everyone that we were really THERE.
| | |
| --- | --- |
| | See, we were in t-shirts, towels and sneakers (though you can't see it in the pic, but we WERE in sneakers!). That's what I called jogging attire. |
| | We took some pictures of monkeys to prove that we were so near to the nature. |
Ok, enough of pre-joggging picture-taking session, we had to start the journey to the top of the hill now. Oh, so excited.
Alas, just after we had around 10 steps of jog, the next happening was...
| | |
| --- | --- |
| | It's RAINING!!! |
No matter how motivated we were, nature didn't seems to be supportive enough. But NOTHING COULD STOP US FROM DOING WHAT WE WANTED. The only thing we need to do was to change our plan a little bit.
The revised plan was to drop the jogging intention and we hopped into Lisan-the-Journey's CLK (aka Cute Little Kelisa) and head to Bidor. hahaha...our plan has expanded to an even bigger one. We will go OUT of the city!
| | |
| --- | --- |
| | Inside the CLK. |
We drove 45 minutes out of Ipoh to a small town called Bidor and arrived at a restaurant named "Pun Chun Chicken Biscuits & Restaurant Sdn. Bhd."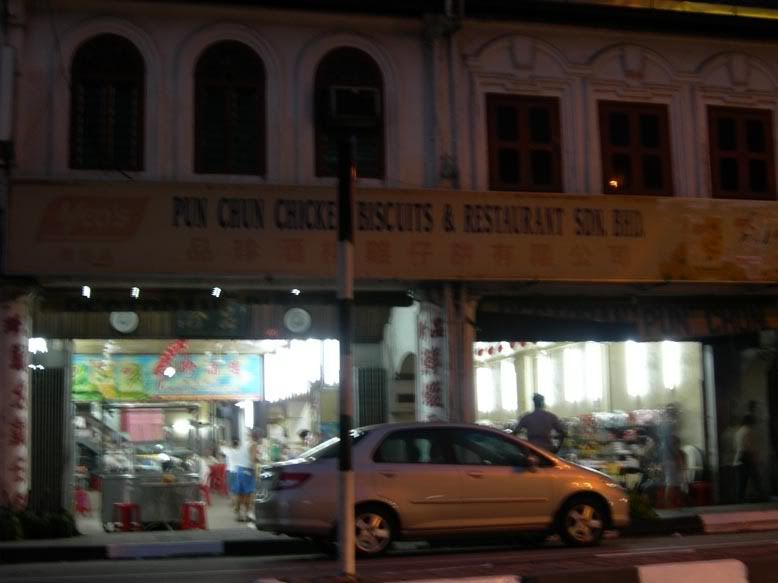 We had the most famous duck-thigh-noodle in town, bought a few packets of chicken biscuits and head all the way back to Ipoh.
Though we should be were disappointed for not able to do some healthy exercises, at least we did a good deed for our appetite. Flexibility can sometimes make a better day.
~~~~~~~~~~~~~~~~~
Back to the story of my trekking, I thought the same would happen. Since it was raining, all mountains would be wet and muddy. It would be hard to continue with the trekking plan. Might as well catch another train and go to Tokaj, have some local wine and enjoy the day?
No, they don't buy my suggestion and I had to follow their initial plan to the Bükk mountains. *arghhhh*...
The weather was pretty bad, not only because of the rain, but the foggy view. We were like heading towards the gate of heaven.
We were walking for f*cking 10am till 4pm, till I almost could not feel my legs. Darn it. Why torture ourselves for such a bad weather?
Ok, stop the whine and I have to admit that the nature was indeed beautiful!
But my limbs are tired...
posted by Survon @ 6:24 PM,