Few years back, when Bukit Tinggi just started, everyone who have been there came back with extremely positive feedback. I have never went up though, but was carrying the fantasy towards Bukit Tinggi all these years.
I've been to the real France. Still, I was curious how the fake French Village in Bukit Tinggi feels like. Will they put on the fake French accent too? So, I gathered a few of my friends in one car on Saturday and we started to drive up the hill. "I was so appy!"
In Bukit Tinggi, other than visiting the French Village (aka Colmar Tropicale), there are other attractions like the Japanese Tea Garden, Botanical Garden and the Rabbit & Deer Farm. The whole journey from KL took about 45 minutes to reach to the top.
We went first to the Colmar Tropicale...
There's only ONE single street in the French Village. The buildings were absolutely looking fake. Fake as in Europe-feel-wanna-be, but look more like Lego construction.
While I thought concept village should always be nicer and more perfect than the real ones, I was wrong. Through all my stay in Europe, never had I seen such ugly simple well and fountain.
| | |
| --- | --- |
| | |
| Water Fountain | Wishing Well |
Anyway, since it was a ugly Wishing Well, couldn't resist to toss some wishes in.
| | |
| --- | --- |
| | |
| Mich's wish | Survon's wishesssss |
| | |
| --- | --- |
| | |
| "Get RICH, Get RICH !!" | "Wish ALL my wishesss come true" |
Seriously, there are plenty of room for improvement in order to make this ONE street suit the concept being a French Village. There should display some words in French, or maybe the Toilet should be written as Toilette? At least this will give some false imaginations to the people while doing their business inside.
| | |
| --- | --- |
| | And what have these ITALIAN Triangles got to do with FRENCH Village??? |
Overall, this Colmar Tropicale is totally a failure. It's a dead duck and all tourists will eventually duck out...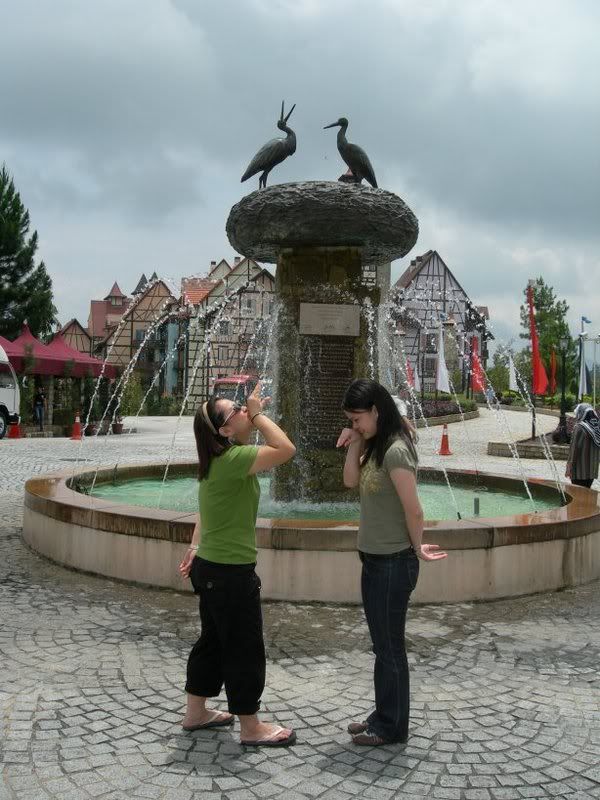 Then, the Japanese Tea Garden...
Nothing much to do here, other than the Tea and the Spa...
Surprisingly, we actually bumped into 4 Hungarians while we were in the Japanese Garden. Gosh, what are Hungarians doing here? They must have lost their way.
| | |
| --- | --- |
| | A Hungarian performing some Japanese customs |
The Botanical Garden was just next to the Japanese Garden...
You can never find any other Botanical Garden like this one. Orchid plant with no orchid flowers and Strawberry plants with no strawberries. Is this what we call Ichiban?
Overall, the Rabbit farm is the best place. Cause the rabbit is real and still breathing...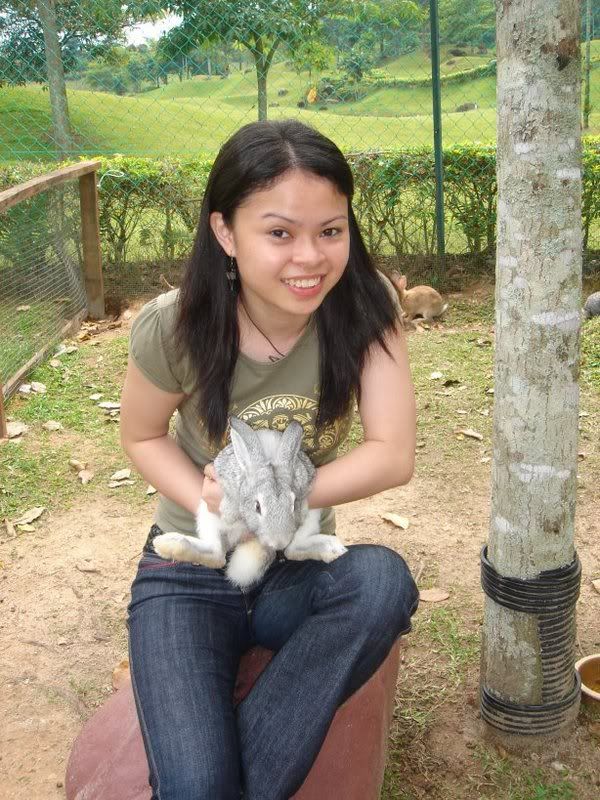 What a lousy Bukit Tinggi...
posted by Survon @ 2:27 PM,