Philipine doesn't seems to be a popular tourist spot among Malaysians. Everyone has been pretty curious as in why did we choose to travel to Philipine as no one really knows what does Philipine could offer. The free tickets given out by AirAsia gave us the opportunity to figure out the answer personally.
It was a 5 day trip to Philipine and we had an extremely early flight to catch. We were late for the check-in. Counter was already closed by the time we arrived. Luckily we were still allowed to check-in. *phew*
Now Everyone Can Fly
The first stop upon our arrival to Manila, we went to the popular local chain fast-food restaurant, Jolibee...
Jolibee is the Philipino version of McDonald's, but food is simpler and smaller size. Nah, I still prefer McDonald's.
While travelling around the city, there are sellers on the main road selling all sorts of products trying to approach potential buyers in the cars. It looks pretty dangerous having such business especially in a busy and dusty streets of Manila.
The American Cemetary...
In the night time, Ryan-the-PhilipinoBent brought us out for clubbing...
We got to taste the local beer, San Miguel..
On the 2nd day, we went to Intramuros where they have those old building built by Spanish in the 16th century.
| | |
| --- | --- |
| | |
| Manila Cathedral | St Augustin Church |
Nothing much fascinating in Intramuros. Not when I have seen too much of such buildings during my days in Europe.
After checking out the most of Manila, we travelled 55 km downsouth to Tagaytay for the volcano expedition.
It was surely not an easy task. We had to ride a horse for about 4km up the mountain and my back was aching for few days after the ride. *ouch*
Upon reaching the top of the mountain, all we could see is the Lake Taal and the Taal Volcano from far. When I say far, I really mean farrrrrr....Was certainly not something I was expecting.
| | |
| --- | --- |
| | |
| Lake Taal | Taal Volcano |
The next day, we travelled to Puerto Galera with a rocky boat....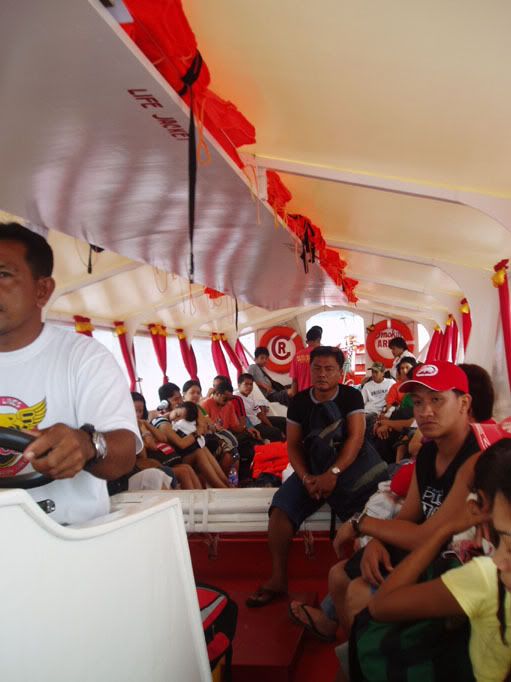 There are a few different beaches in Puerto Galera, for example, White Beach, Sabang Beach, La Laguna Beach, Coco Beach etc. We decided on White Beach as I heard they have better beach with lesser hectic compared to other beaches.
That night, we took a tricycle and went all the way to Sabang Beach for their popular night life and had a taste of their pole dancing. No, there were no naked women around.
It was absolutely not the right season to be in the beach at this period. Though we were in the beach for 1 day 1 night, we didn't manage to even play around with the water cause it was raining when we wanted to go for snorkeling and the wave was too high most of the time.
So we left Puerto Galera the next day with our dry bikinis and travel around Makati for the last time...
| | |
| --- | --- |
| | |
| That's not my hand | Horse car in the middle of the city |
| | |
| --- | --- |
| | The friendly security guards which mistaken us as Koreans |
We also tried Balot...
If you can't figure out what's Balot from the picture, Balot is a fertilized duck egg with a nearly-developed embryo inside that is boiled alive and eaten in the shell (according to Wikipedia)
Our last dinner in Philipine was (again) with Ryan-the-PhilipinoBent and Bernardine-the-PhilipinoGal at a restaurant in SM Mall of Asia, Kalye Juan. SM Mall of Asia is the biggest shopping mall in Philipine.
And that marks the end of our Philipine trip....
After spending 5 days in Philipine, frankly, I couldn't tell what's fun in it. But to be fair, I have to admit that we did not go to the best place in Philipine, cause all those popular places are pretty far from the capital city. If you are planning to visit Philipine, you shouldn't stay anywhere near the city (unless you wanna try out their city life). Baguio which is about 9 hours travel from Philipine could be interesting. Boracay Island is the best beach in Philipine, as I heard, but you need to take another flight from Manila. Both places would need at least 3 days and above to really enjoy the trip, which we were lacking.
Transportation in Philipine is pretty bad. Cab is the most convenient public transportation you could get. Jeepney serves like our public bus which stops from station to station. Tricycle is a cheaper version of cab but could be dangerous when going up and down hill.
| | |
| --- | --- |
| | |
| Jeepney | Tricycle |
Salary in Philipine is usually paid twice every month. I wonder if that cause most of the products sold are packaged into smaller packet. You can notice shampoos, lotions or other liquid producst are sold in free-sample-kinda-package everywhere in Philipine...
| | |
| --- | --- |
| | |
| Super small Johnson's baby oil | Free-sample package shampoo |
Food is pretty delicious in Philipine. We love most the food we had but it doesn't seems to be cheap with respect to their average low salary. I wonder how they can survive with such high living expenses.
English is pretty wide spoken especially among youngsters. Most signboards are written in English that I hardly find any Tagalog words around. I'm saying this because it's not easy to be in a country for 5 days and yet we can't recognize 'Exit' in their language. Though English is common, those with lesser education will have difficulty pronouncing 'v' and 'f' and they tend to read it as 'p'.
This was what happened when we ordered our food...
| | | |
| --- | --- | --- |
| Survon | : | Is that pork? |
| Philipino | : | No, that's beep |
| Survon | : | Beep ???? |
If you don't know what he meant, try to change the 'p' to 'f'.
This was what happened when we were bargaining on a pearl necklace...
| | | |
| --- | --- | --- |
| Survon | : | How much? |
| Philipino | : | 300 |
| Survon | : | Nah...100, I give you 100 |
| Philipino | : | 100? 100 is pig. That's PIG! |
How surprise I was when I thought he was scolding me pig for bargaining. But later after conversion, I forgave him for saying fake pearl as pig.
Philipinos are mostly friendly, though they might sound evil when they were trying to earn our money. The sellers sometimes would act like vampire trying to suck all the blood you have and it was really annoying. Well, can't complain much but to blame on their hard life in Philipine.
Poor kids playing with dirty water pool
Philipino girls are also pretty and usually with big boobs. You can hardly notice any thin gals around cause usually they are in good shape to plump. There were no extremely thin girls, probably because of the nice food they have? Philipino guys are cute. No doubt on that. But too bad the one we met is not interested in girls?
posted by Survon @ 10:19 PM,