No, no one proposed to me during Valentine's Day.
I don't think there's anything interesting to talk on how I spent my V Day as I just had a gang hang out with my bunch of colleagues (everyone was either single or the partner was not around).
What worth to be blogged is something I saw on the way home along the LDP.
If you are heading towards Puchong along the LDP, you'll spot a huge billboard before the Western Digital Building...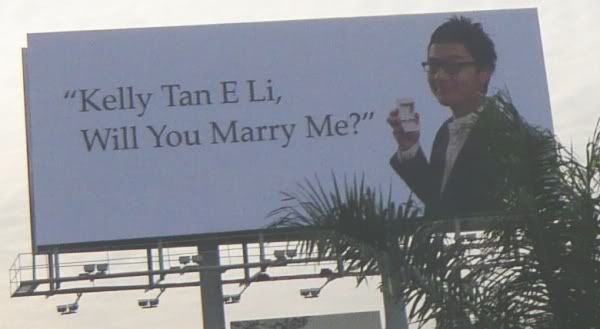 I'm pretty sure I was pressing hard on the brake trying to slow down my car to have a clearer view on the 'ad'.
So sweet, but so dangerous to other drivers! In that split second, I couldn't tell if it's an ad or it's a marriage proposal. I wanted to make a U-turn to have another peep, but I managed to calm myself down and persuaded myself to wait till today to take another look. And voila, I even took a picture of that billboard.
It came out in the paper today.

RM40K for the board and another RM15K for a diamond ring. Darn, that must be the most unforgetable Valentine's Day for Kelly.
posted by Survon @ 10:07 AM,