Date : 21st Dec, 2007
Before I start writing about my previous trip, would just like to wish everyone who is reading this, Happy New Year 2008!
Continue on the second day of my trip, everyone woke up early morning as everyone was still energetic and fresh after the first day. For your information, we were still in Taiping.
Our first stop was to fill our stomach with the local dishes at the wet market in Pokok Assam. They had some weird kind of nasi lemak topped with assam and prawn. Didn't really like that, but other food in the market was pretty good.
After satisfying our hunger stomach, we went for a home-baked biscuit searching mission around Taiping Aulong. It seems that there was a house baking nice biscuit (Heong Beng) around that area but finding that house was certainly not an easy task, as there was no route indication in our GPS system. Fortunately, we could locate the place and some of us bought few packets of biscuits home for souvenirs and some to be consumed along the trip.
Coming to Taiping, certainly can't miss the Lake Garden nor the Safari Night. Too bad it was raining the night before, causing us to cancel the plan to visit the Safari. The weather was excellent today. It might be a bit too hot and sunny for an outdoor activity, but positively, it was great condition to take superb quality pictures.
Cam-whoring could be fun, and yet could be quite annoying. Fun was only when you could take nice picture with great quality. Annoying was when we had to take pictures of every freaking corner of the place, and worse when we had to take turn to take the same picture at the same place, but with different model. Hate to admit this, but yes, I was a bit freaked out myself having to stop by after every few steps to take picture. Walking around the lake was taking forever.
Poor George-the-WalkingGPS and Daniel-the-Diver, rather chose to have a cup of coffee in a nearby cafe and later went back to the car to flip through the newspaper while waiting for us.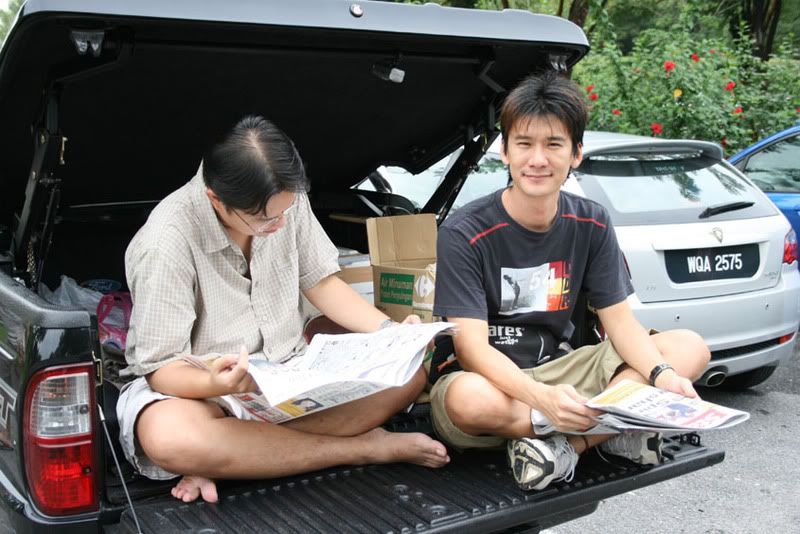 Before we left Taiping, we went to Restaurant Kakak to taste their 'Kai Si Hor Fun' (aka Chicken Shredded flat noodles). This restaurant offered a special drink labelled as 'Kakak Bing', which was a mixture of barley with Nescafe. Tasty!
The next stop was Butterworth, where we had Char Kuay Teow and Prawn Noodles. Well, Penang food had never disappointed me this far, including this one. *Thumbs up*.
We didn't stay in Butterworth for long. Soon after we finish our meal, we headed up north to Alor Setar where we checked in in a budget hotel, C B Motel (If you speak hokkien, C B stands for Chya-Bee, meaning 'Nice Taste', not the other CB you were thinking, mind you!).
It was already night time when we reached Alor Setar, and it was time to search for our dinner. We came across this K. Nasi Lemak store which serve nasi briyani with different dishes to go with.
As for supper, we walked to some coffee shops just a few streets away from our motel with some hawker stalls along the road for food and also to have a look and feel on the local culture.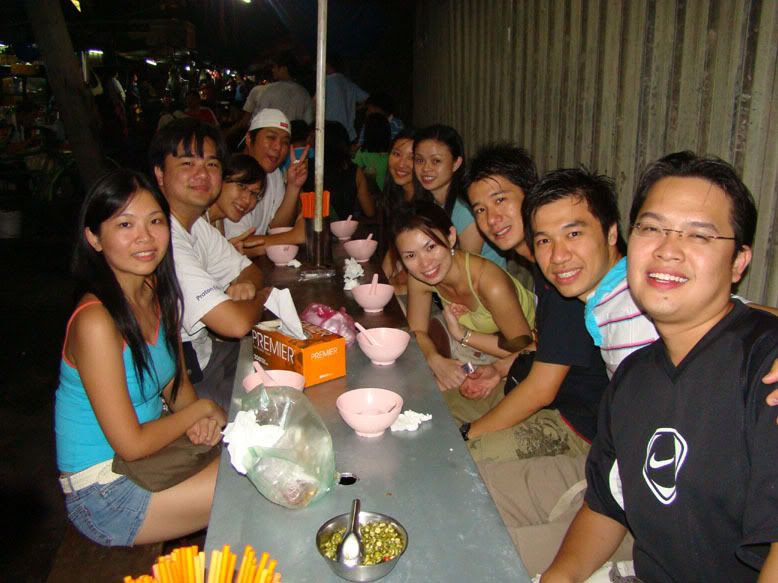 Being the first time in Alor Setar, we were hoping to see more of Alor Setar the next day and not just the night view.
Stay tuned for more of it.
[To be continued...]
Related Posts:
Day 2: Taiping - Butterworth - Alor Setar
posted by Survon @ 4:29 PM,