Date : 23rd Dec, 2007
Everyone woke up early on this day preparing for a hard journey ahead. We will be spending most of our time in our 4 wheels along the tough East-West Highway and other small roads.
We filled our stomach as much as possible to ensure everyone has the energy for the journey as drivers need stamina to drive and passengers need the strength to sleep motivate the drivers.
We drop by at Gerik's foodcourt and ordered as many variations of food as possible and share among ourselves.
We arrived at Temenggor Lake's Banding Island to enjoy the scenic view, cam-whore a bit, and left the place.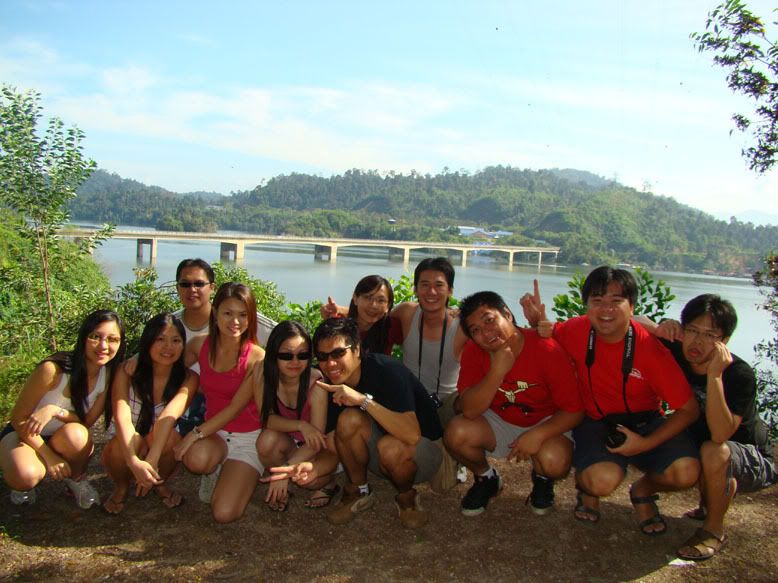 Before we left the island, we tour around the island with our cars to check out what the island could offer. When we reached the jetty, we found out that the place was partially flooded. Honestly, I've never experienced any severe flood in my life (*touch wood*). Thus, seeing such situation was a bit arousing (sorry to the flood victims).
Just next to the flooded place, there was a police station standing still, not affected by the flood at all. One of us went in trying to 'borrow' their toilet...
| | | |
| --- | --- | --- |
| We | : | Encik, boleh pinjam tandas kah? (trans: Sir, can I borrow your toilet?) |
| Officer | : | Pinjam tak boleh. (Cannot borrow) |
| We | : | Huh? |
| Officer | : | Guna boleh. (Can only use) |
| We | : | (What a humorous police officer) |
We continued our journey entering into the East-West Highway. Comparing to the North-South Highway, the view here is way much nicer as it goes up and down the hills and jungles. The journey was not easy though going through bents and curves in smaller roads.
We stop by at a tempat rehat (rest stop) called Titi Wangsa as we were told that we could peek the marvelous view of Banjaran Titiwangsa (aka Main Range) from there. We weren't disappointed, of course. Despite the hot sun, we took some time out of the car to take some pictures before head off.
| | |
| --- | --- |
| | The red team |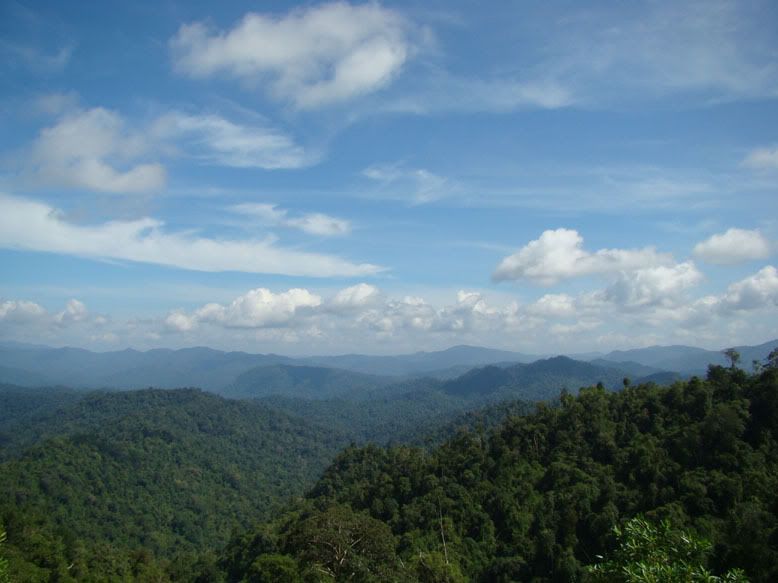 At this moment, I could feel like being in heaven-like zone. Or specifically, I was like living in heaven with hot burning hell weather.
I'm pretty sure all drivers have recharged their energy by now after enjoying the breathtaking view of the backbone of Peninsular Malaysia, Banjaran Titiwangsa.
Time was running short and we have to rush to Gua Musang. Half way till Jeli, we were stuck in the middle for not able to take our pre-planned route as the road was closed due to the landslide that occured 2 days ago.
| | |
| --- | --- |
| | While we were standing on the roadside deciding our next action, there was a very nice waterfall not very far away. |
We were told by some locals that there were no other routes to Gua Musang other than taking a U-Turn back to Gerik, where we came from, which would take another 2 hours to reach, and to reach Cameron, it will take another 2 to 3 hours. If we continue using the pre-planned closed road, it will only take an hour to reach Gua Musang and another 2 hours to reach Cameron. Though there was signboard saying that the road was closed, we could see many cars driving into the closed road. We didn't know what to do as we have no idea what was the best way to get to Gua Musang.
We flagged down few cars coming out from the closed road to understand more on the condition of the landslide. As what we were told, there will be another smaller old road that would be able to bring us to Gua Musang. Looking at the indication of our petrol tank, it was a tough decision as all the 3 cars were having less than half the tank full. There will have absolutely NO petrol kiosk available throughout the 2 hours drive from Jeli to Gerik. We will all be doomed if we have decided to take the small road only to realize that it was a wrong decision and we won't have enough petrol to turn back to Gerik. After some thoughts and following the majority votes, we decided to give it a try on the smaller road, praying hard that the road is safe for all 3 cars to pass by.
The condition of part of the road was very bad and small allowing only 1 car to pass by cutting through some villages. It was extremely scary as I was sitting in the Ford Ranger going through the small road and there was another 4WD (Pajero) coming from the other direction. Worse was, the left side of our car was actually a river but because the side was covered with long grass, we couldn't really distinct the ground and the river.
Thanks to the Pajero which told us that we were at the wrong route and informed us we should have turned right earlier on. So, on that small road, we have to make a U-Turn to get back to the junction. Another mission impossible for our 4WD.
We had got the right information. Indeed we could cut through to Gua Musang with such small road. But before we were able to reach till the end of the road, there was another landslide which happened probably few hours before. We were stuck in a jam, waiting for the locals to clear up the road, so that we could pass through.
After waiting for an hour, we could go through the landslide and reached Gua Musang not long later. We didn't have time to check out the famous cave there, but just drop by for dinner.
We went straight to Cameron after dinner and the night was already all dark by the time we reached there. As it was our last night for the trip, we had some wine and had a small party in the apartment we rented.
[To be continued...]
Related Posts:
Day 4 : Gerik - Temenggor Lake - Gua Musang - Cameron Highlands
posted by Survon @ 9:14 PM,