More than a year ago, I tried white water rafting at Slim River with my bunch of friends and I had so much fun. On 27th March, I joined my new company and experienced my 2nd rafting at Kampar River guided by My Gopeng Resort. It was my first outdoor activity with my new company (other than the weekly badminton and futsal) and best thing of all, it was FREE!
Early morning at 6.30am, we gathered at our office block lobby and then we were shuttered to Gopeng by a coach.
We were then transferred to a lorry to go up the hill into the resort. It's a new experience to most of us riding IN a lorry.
The team...
There were some chalets around the resort made for people travelled from far and wish to stay overnight.
Lunch was provided by the resort before the extreme task.
Everyone was asked to sign a Liability Release so that we can die peacefully.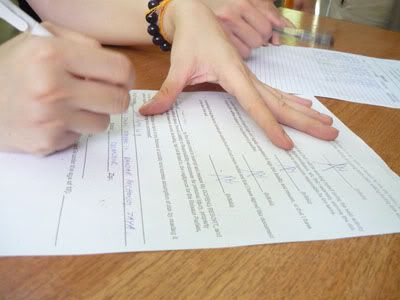 We took our gears while being briefed on the safety precautions. We were given rubber shoes to wear and I had to search for the smallest pair which was still 1 size bigger than my feet. Despite of the shoes discomfort, all other gears were in pretty good condition.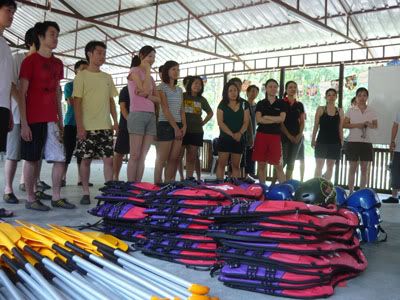 Now everyone is prepared...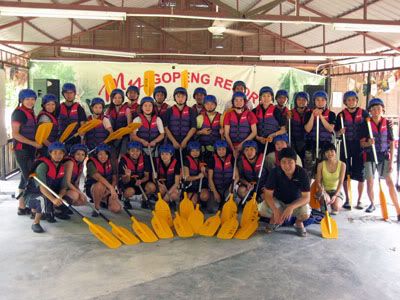 Comparing to my previous experience, I would prefer my previous rafting as the guide was far more experienced compared to the one in My Gopeng Resort.
Anyways, there's something in My Gopeng Resort that I really enjoyed. Apart from staying in the raft and flow with the water, the first thing to do, was to float through the rough rocks and water with our body. It was a cool experience, though I swallowed quite a lot of water and the rock was hitting my arse. But well, I still survived and it helped us to feel more comfortable with the water and not to be panic in case we were thrown out from the raft during rafting.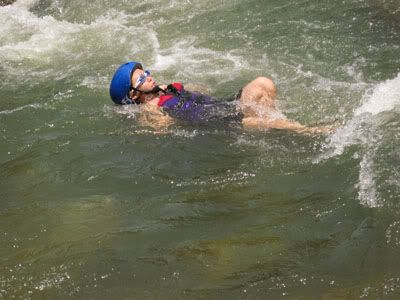 The real combat then begins...
We rest for almost half and hour in the middle of the river where we could play with the water and throwing someone up in the air...
We ended our 2 hours adventure happily...
| | |
| --- | --- |
| | YES, we did it !!! |
We followed the same route back to KL and stopped by in Kampar for dinner and had the local famous Curry Chicken Bread.
Other food...
Satisfied ~~
posted by Survon @ 10:30 AM,